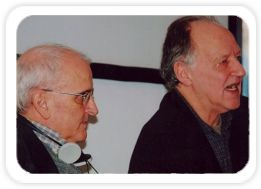 The two-day course held by the critic Bruno Fornara will lead you in the discovery of Werner Herzog's films. Some directors are not content simply imitating reality. They are not fulfilled by simply constructing a set and using it to tell a story. Some directors travel, searching for reality, for the world, for nature: their films unfold around and within the world. They are true and make-believe. They are fiction and fact. They document and testify to their passion for adventure and discovery, or for frustration and disenchantment. These are films that pose questions, that risk complete failure, that dare to do the impossible.
Werner Herzog has chased nature's hidden face, what is truly real, for forty years. All of his films, including those we define as fiction, and the others, which we call documentaries, are actually always about adventures and pursuits of understanding. Herzog is not defined by a definite line between fact and fiction.
Every one of his films is full of questioning, examination, challenge. 'Fata Morgana' tells of an almost mystical route through inner Africa. 'Fitzcarraldo' is both realistic and visionary, the story of the ascent up a mountain in a boat. 'Aguirre' is an impossible quest, a descent into the rapids of an Amazon river that is almost like a descent into the underworld. 'Apocalisse nel deserto (Desert Apocalypse)', originally called 'Lezione nelle tenebre (Lessons in the darkness)', presents a journey to the end of the world after the war in Kuwait. 'L'ignoto spazio profondo (The great unknown space)' is a meditation on the past and the future of humanity. 'Grizzly Man' tells the story of a small man who wants to live among the bears in order to save them (even if they don't know it). Herzog provides us with mind-blowing insights from the discoveries he has made and continues to make on his various paths that traverse the world, nature, and men: he has lived among the shepherds under the desert sun, among Buddhist monks, among the shamen of Siberia, in the Himalayan Mountains...
Herzog's work includes job upon job upon job: he constructs reality, inquires about different worlds, creates visions, explores enchanting kingdoms. To see and know his films, long and short, means coming in contact with one of the most free-spirited, open, and extraordinary (in the literal sense that it is out of the ordinary) voices in both historical and modern cinema.
Bruno Fornara, the film critic behind "Cineforum", is a film instructor at the Holden School in Torino and a Jury member at the Venice International Film Festival.
Schedule
Saturday, October 13, 2012
9:30 A.M. - 10:00 A.M.: registration for participants
10:00 A.M. - 12:30 P.M., 2:30 P.M. - 4:30 P.M.: lessons with film screenings
9:00 P.M. - 11:00 P.M.: film screenings
Sunday, October 14, 2012
10:00 A.M. - 12:30 P.M., 2:30 P.M. - 4:30 P.M.: lessons with film screenings
4:30 P.M. - 5:00 P.M.: certificates of attendance awarded
How to Enroll
Via E-Mail: info@asilobianco.it
By Phone: 0322 998717 – 320 9525617
Cost of the course: €50, to be paid Saturday morning at registration